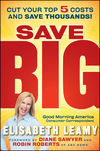 Save Big: Cut Your Top 5 Costs and Save Thousands
In this battered economy, saving money matters more to consumers than ever before. But we're tired of hearing about all the small stuff, like skipping our morning latte and installing low flow showerheads. We want BIG, bold ideas, and this book has them. In a straightforward style-with a dash of attitude-Good Morning America's Elisabeth Leamy shows you how to Save BIG on the priciest parts of your life. Leamy puts saving in perspective. Her philosophy is to save a lot of money on a few things rather than a little bit of money on a bunch of things. Why give up life's little pleasures when you can save more money by attacking a few big, boring expenses instead?

There's Always a Way: How to Develop a Positive Mindset and Succeed in Business and Life
Many people today recognize a powerful correlation between physical health and business success. Tony Little is living proof of this connection. Having worked his way up from poverty and sickness to become, as Jay Leno called him, "America's personal trainer," he is also the most successful and recognizable salesman on the planet today, selling a record-breaking 3 billion dollars worth of retail product on TV. Now, in
There's Always a Way
, Little reveals how he's used the hard knocks in his own life to develop unique selling strategies that make him a living brand.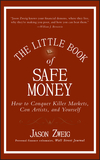 The Little Book of Safe Money: How to Conquer Killer Markets, Con Artists, and Yourself
acts as a guide for those trying to make their way through today's down markets. The topics covered include everything from investing behavior-why our minds come with their own set of biases that often prove harmful-to the use of financial advisors. But this timely book goes one step further than the rest by questioning an investor's true appetite for risk.

The Shark and the Goldfish: Positive Ways to Thrive During Waves of Change
Jon Gordon shares an inspiring fable about Gordy, a pampered goldfish who gets swept out to sea. Desperate for food, Gordy meets a kind shark who teaches him the ultimate lesson-Goldfish wait to be fed. Sharks go find food. Gordy also learns that the difference between a full and empty stomach is our faith, beliefs and actions. In the face of adversity and lean times, this is a business fable that reinforces a proven truth: You can't control the events in your life. But you can control how you respond and in turn this determines the outcome.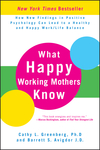 What Happy Working Mothers Know: How New Findings in Positive Psychology Can Lead to a Healthy and Happy Work/Life Balance
Science and sociology have made great strides in understanding what makes us happy and how we achieve it. For working mothers who face endless demands on their time and attention,
What Happy Working Mothers Know
provides scientifically proven and practical ways to find the right balance and replace stress with happiness. Written by a behavioral scientist and global leadership guru, and an international lawyer and career coach, this mom-friendly guide offers practical tactics that truly work.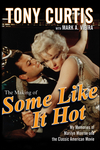 The Making of "Some Like It Hot": My Memories of Marilyn Monroe and the Classic American Movie
A special memoir for a special moment in Hollywood history,
Some Like It Hot
occupies a unique place in American culture. This beloved classic showcases five comic geniuses: Tony Curtis, Jack Lemmon, I. A. L. Diamond, Billy Wilder, and Marilyn Monroe. It has been honored by the American Film Institute as the "Funniest Film of All Time". It has contributed quotes, styles, and stories to film lore. Yet the full story of its making has never been told—until now.
Mr Playboy: Hugh Hefner and the American Dream
Historian and biographer Steven Watts argues that, in the process of becoming fabulously wealthy and famous, Hefner has profoundly altered American life and values. Granted unprecedented access to the man and his enterprise, Watts traces Hef's life and career from his midwestern, Methodist upbringing and the first publication of Playboy in 1953 through the turbulent sixties, self-indulgent seventies, reactionary eighties, and traditionalist nineties, up to the present. He reveals that Hefner, from the beginning, believed he could overturn social norms and take America with him. This fascinating portrait illustrates four ways in which Hefner and Playboy stood at the center of several cultural upheavals that remade the postwar United States.

100 Ranger Greats: Superstars, Unsung Heroes and Colorful Characters
Through research and personal interviews, and with the addition of over 200 color and black and white photos,
100 Ranger Greats
presents personal profiles that combine statistics with personal and often humorous stories so that the reader gets a real understanding of that man's life as a player in the National Hockey League and with the New York Rangers. A richly illustrated history and a fascinating and entertaining look at a cast of colorful characters, this book is for young fans who wants to learn about the New York Rangers history and the veteran looking for stories about the players they grew up with.

The Big Book of Parenting Solutions: 101 Answers to Your Everyday Challenges and Wildest Worries
In this down-to-earth guide, parenting expert Michele Borba offers advice for dealing with children's difficult behavior and hot button issues including biting, temper tantrums, cheating, bad friends, inappropriate clothing, sex, drugs, peer pressure, and much more. Written for parents of kids age 3-13, this book offers easy-to-implement advice for the most important challenges parents face with kids from toddlers to tweens.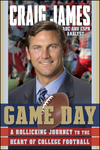 Game Day: A Rollicking Journey to the Heart of College Football
If television's college football analysts had a Hall of Fame, Craig James would definitely be in it. His opinion and insight on ABC and ESPN-not to mention occasional jabs of sharp humor and Texas charm-are as addictive as the games are.
Game Day
takes a complete inside look at the 2008 college football season-from James's behind-the-scenes Spring Tour when he met with players and coaches from twenty top programs to the bowl season. He makes the book timeless by using the season as a springboard to tell tons of great college football stories from his twenty years spent covering the sport.
---
You are receiving this email because you are on our media list to receive updates about our new titles. To unsubscribe, please reply to this e-mail and type "REMOVE" in the subject line. We will always respect your e-mail privacy and never sell, rent, or exchange your e-mail address to any outside company. For complete details, review our Privacy Policy:
http://www.wiley.com/privacy
. If you feel this message was delivered without your consent, please don't hesitate to notify me at
monorato@wiley.com
.